Lake Huron Michigan Activities & Attractions
Oscoda has been voted the top beach town in Michigan due its picturesque Lake Huron views on beautiful sandy beach, and neighboring East Tawas Bay, is located in one of the most beautiful parts of the Sunrise Coast of Michigan. And our luxury inn is close to local attractions such as Iargo Springs, Lumberman's monument, AuSable River Queen, Wurtsmith Aviation Musuem, or the various trails that Huron National Forest offers. Take a trip to visit Lighthouses at Tawas Bay and Sturgeon Bay or bike along the paved trails along US-23. Or just come to the Huron House to enjoy the luxury rooms and breathtaking views of Lake Huron from your private balcony. Whatever you choose, you will create lifetime memories with your trip to the sunrise coast of Michigan at the Huron House Bed and Breakfast.
AuSable River Queen
The AuSable River Queen is the only paddle-wheel riverboat of its kind, and offers a variety of tours. This unique paddle-wheel boat runs from summer into the fall so that you may take in the splendor of the autumn colors. Live music is provided on the AuSable River Queen on the weekends, and there is a snack bar as well.
Birding
Michigan is a year-round destination for avid bird lovers. In fact, the Michigan Audubon protects over 3,500 acres of bird habitat and has a network of more than a dozen sanctuaries. It also hosts several popular workshops, field trips, and birding tours (Kirtland's Warbler and others) throughout the year. Popular birding events include: Spring Fling (held end of April/start of May), the Tawas Point Birding Festival (mid-May), Cerulean Warbler Weekend (early June), and the Sandhill Crane & Art Festival (early October).
Lumberman's Monument
A U.S. Forest Service interpretive center that honors the lumbering era. Spectacular lookouts across the AuSable River Valley. Be sure to view the magnificent 14′ bronze statue of the lumberman. Video
Iargo Springs
Located on the River Rd scenic byway, this site is considered a holy place by Native Americans. The falls offer a breathtaking view of the AuSable River as well as the ability to walk down 294 steps that take you on a mystical journey. Video
Bike the Huron Lakeshore
This paved trail follows US -23 along the lakeshore from Alabaster Road, south of Tawas City, over 10 miles through Tawas and East Tawas to Tawas Point Lighthouse at Tawas Point State Park. The trail is wooded at both its start and finish, but totally open in the middle with great views .
Golfing at Lakewood Shores
Ranked #1 Best New Resort Course in the US by Golf Digest. Located at Lakewood Shores, this top ranked Michigan golf resort offers three unique golf experiences.
From the Scottish designed Gailes to their newest course "Blackshire" recently nominated Best New Resort Course in the US for 2002 by Golf Digest to the classic parkland design of the "Seradella" showcasing over 50,000 annuals and perennials.
The Serradella is a classic parkland design with minimal hazards, wide fairways and large greens. With half the holes cut through the heart of nature, you may see deer, wild turkey or even a fox.
The Blackhire was designed to recreate the look and feel of the famous Pine Valley C.C. in New Jersey. Although not a replica of Pine Valley, it does offer golfers a similar rugged and natural feel. Cut through the hardwoods & pines, you encounter large sand waste areas along the fairways, trees and greens giving the Blackshire a much different look than your typical Northern Michigan course.
Watercraft and Jetski rental
Cool down this summer while racing through the waves of Lake Huron. For an hour, a day, or a week, SunnyBunns can accommodate your desire to get wet this summer. We rent waverunners, pontoons, jet boats, I/O powerboats, and paddleboats. We are located right on the beach of Lake Huron's Tawas Bay, and can deliver to Cedar Lake, Sand Lake, Foote Pond, Van Ettan Lake, and Indian Lake. If you don't see your location in this list, call us, we might be able to deliver there too.
All rentals include fuel, life jackets, instructions, and wetsuits (if available). Feel the power of a Yamaha waverunner that can seat one, two, or three people (limit 400 pounds).
Tawas Point Lighthouse
Tawas Point Light is located in the Tawas Point State Park off Tawas Bay in Lake Huron in Baldwin Township in Northern Michigan. In 1850, Congress appropriated $5,000 for the construction of a lighthouse. In 1852, construction started, and the lighthouse was commissioned in 1853. After the lighthouse was built, many problems were encountered. Shifting sands caused the point to be extended by nearly a mile. The original light was a 5th Order Fresnel lens, later upgraded when the building was replaced. Moreover, the structure was failing, and a ship disaster in the 1870s led to the decision to construct a new lighthouse in 1875.
Sturgeon Point Lighthouse
Sturgeon Point Lighthouse is located five miles north of Harrisville on Lake Huron and was completed in November 1870. The tower is 70 feet, 9 inches tall and is 16 feet in diameter at its base. The light is 3.5 order Fresnel lens made in Paris, France. The light is still maintained by the U.S. Coast Guard. The keeper's house is now a maritime museum which is open to the public from Memorial Day to mid-September. The lighthouse tower is open to the public. The grounds are open all year.
Canoe or Kayak the Au Sable River
Experience some of the best that the Au Sable River offers with a Kayak or Canoe. Be sure to bring your camera to capture more of nature's best on the River.
Charity Island Dinner Cruise
CHARITY ISLAND'S "1857 ISLAND LIGHTHOUSE DINNING ADVENTURE CRUISE" Their Signature "1857 Island Lighthouse Dining Adventure Cruise" to Charity Island beginning Saturday May 25th will run every Weekend through the second Saturday in October. For the General Public they run every Friday, Saturday, & Sundays and typically have tour groups on weekdays with a limited General Public seats also available on those dates as well. Call for weekday availability.
Alpena Shipwreck Museum and Tours
Explore the shipwrecks of the Thunder Bay National Marine Sanctuary. The crystal clear waters and our large 'glass bottom' viewing wells allow you to dive the wrecks – without getting wet. During our 2 hour cruise you will experience the magnificently preserved shipwrecks and the scenic shorelines of Thunder Bay. Learn the exciting tales of many famous ships and the history, legends and lore of Lake Huron.
Wurtsmith Aviation Museum Yankee Air Force
The Wurtsmith Air Museum has an aviation museum and gift shop in three hangers at the Oscoda-Wurtsmith Airport. The Museum contains artifacts and memorabilia relating to the military, along with static displays of several aircraft, including a UH-1H (Huey) Helicopter, a T-33 Jet Trainer and several civilian General Aviation aircraft.
In addition, many displays commemorate the wars and conflicts of the past hundred years in the museum. Women in aviation history and Wurtsmith AFB history are displayed. The gift shop contains aviation related books, posters, models, and many other souvenirs.
The museum is open Friday, Saturday, and Sunday from 11:00 am to 3:00 pm from the middle of May to October (admission fee).
Charter Boat Fishing

Oscoda Historical Museum
This land – where the beautiful AuSable River flows into Lake Huron – is alive with the shadows and echoes of those who have passed way before us. We who follow can but watch and listen. And Remember. Museum exhibits include Indian Artifacts, commercial fishing, shipping, ship wrecks, logging, Paul Bunyan legend, railroads, lighthouses and the AuSable River and its dams, the Fire of 1911, Wurtsmith Air Base and more.
Veteran Memorial Park
Located on the corner of Skeel Avenue and F-41, the Veteran Memorial Park was established on Veteran's Day November 11, 2006 and consists of 6 acres under continuing development. The Circle of Flags, which includes the 54 United States and territorial flags is impressive. The Visitor's Center is open on all holiday weekends, special events and other selected times. The parks stated purpose is to provide a place of relaxation and reflection which recognizes and preserves the honor of those who served and scarified for our freedom.
AuSable National Scenic River
The Au Sable National Scenic River, is a 23-mile portion of the Au Sable River that stretches from Mio to Alcona Pond. President Ronald Reagan signed the law establishing the segment of river as a National Scenic River on October 4, 1984. By receiving this designation, this free-flowing segment from below Mio Pond to the upper end of Alcona Pond received national recognition for its outstanding and remarkable scenic, recreational, biological and historical values and a national commitment to its protection. People have enjoyed the scenic beauty of the Au Sable for hundreds of years. There are many fishing charters available on the Au Sable River.
MCRA Canoer's Memorial Monument
Canoer's Memorial honors those that have paddled and those that continue to paddle these flowing waters. Access to Highbanks Trail during summer months is available at this site. This monument was erected to honor the members of the Michigan Canoe Racing Association and is sited on a scenic overlook adjacent to the Au Sable River.
Sunrise Side Wine & Hops Trail
Known for its location and convenience, Michigan's Sunrise Side Wine & Hops Trail entices thousands of visitors each year to discover the thrill of Pure Michigan. Wine and hops aficionados will discover beautiful scenic views, wineries, breweries, one of a kind attractions, eateries, and quaint towns rich in history and flavor.
Cross Country Skiing- Corsair Trail
Corsair may not be the most challenging cross-country ski area in the state, but it is a favorite to many. Those wonderful warm, sunny days in late February and through March will often find skiers here gliding down a trail before heading into town for dinner. The word about the quality of its trails and grooming got out quickly, and Corsair is now one of East Michigan's premier public Nordic ski destinations. On some days up to 1,000 skiers are out on the runs, but the trails are so well done that except for the parking lot, you'd never know it. Surface quality: Groomed and double track set.
Hiking the Highbanks Trail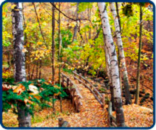 Highbanks Trail is an 8 mile point-to-point trail located near Oscoda, Michigan and is rated as moderate. The trail is primarily used for hiking and is accessible from April until November.